I use the following products myself, so I know and can recommend them to you!

To order: Please email me at hoof.care@bigpond.com and direct deposit your payment

(or send Cheque/Money order, made out to C. Adolf to Carola Adolf, c/o PO box  Bass 3991)


F.Dick Ascot Professional Hoof knife                                                                                                                      $65

Right or left handed (please indicate)

I have tried many different knives, from custom made loop knives to other similar looking brands, but I always come back to this tool for the quality of the steel, the elasticity of the blade and its shape. Thousands of barehoof trimmers have learned and have coninued to work  with this knife.

I trim any hoof (big or small, no matter how challenging) and every tricky corner) with this knife. It is my absolute favourite! The handle is rosewood and is ergonomically shaped.

Bellota Professional Farrier Rasp                                                                                                                                          $40

My personal favourite, as it matches my level of strength. Some bigger teethed rasps may have more "bite", but I would also need more strength to apply them without getting stuck....

Instead of bigger cutting teeth, this rasp has more (see picture of the cutting surface), and therefore has a lot of "grunt".

It is economical (stays sharp for many trims, even in dry hoof/summer conditions as the quality of the steel seems to stay consistent (which seems to be a bonus ;-) ).

Safe Edge Professional Farrier Rasp                                                                                                                               $40

My "other favourite" rasp. This rasp has a very similar cutting action (just right for my strength- but I hear from my supplier that this is also one of the most popular rasps with the guys..... my farrier colleagues!)

Rasp Handle (smooth wood, scew on)                                                                                                                             $15

This not only saves your hands and makes the proper use of the rasp possible, it also prevents you from sticking the sharp end of the rasp up your ... or your horse's nose :-). An accessory I strongly recommend!

Send order and payment to:

EquineBareHoofCare

Att. C. Adolf

c/o P. O.

Bass Victoria 3991

Westpac Banking Corporation

BSB 733-003 Account No. 58-2462  

SWIFT Code:

WPACAU2S  (needed for international orders) 

Email your order with your payment reference

THE (!) best trimmer apron around!                                                                                                                                      $195

Not only is the design and fit absolutely superb, it is also made right here in Oz by "Luscious Leather's" Leonie Quick!

The apron comes in almost any colour or colour combination you can think of (why not ad a bit of fun when trimming!) .

Extra knife pockets can be added on request.

And you can place your orders  through The Organic Shop!

I am working in one of Leonie's  "bottle-green-on-black-creations" which matches the rest of my work outfits (will ad picture as soon as I find someone to photograph me), so I feel rather fashionable........

(Ever heard a farrier or trimmer say that? Hahah....... that's the female touch in this previously male dominated profession)

Tool Garage                                                                                                                                                                     $19.50

When you look after and store your tools properly, they will last you a long time! These tool pockets are ideal for your rasp/nipper and knives. Add a little oil and your tools will stay rust free and sharp!

Another one of Leonie's Luscious Leather creations. (Many colours available as well).


Swiss Knife Sharpener (Kerckhaert)                                                                                                                                    $35

The super hard titanium sharpening edge will sharpen any cutting tool, including your hoof knife. It even reaches

into the curl of your F.Dick hoof knife! I don't use any other sharpener and couldn't live without it!

Nordic Forge Professional Hoof Nippers                                                                                                                              $205

Excellent "middle of the range" hoof nippers. I work with them (14" handles) all the time and am very happy with them.

Straight forward quality tool that is easy to use - even when you deal with hard summer hooves......

These nippers have sharp, flat cutting blades and can easily compete with some of the "top of the range" tools.

Biophotonic  Equipment / Wellness Tools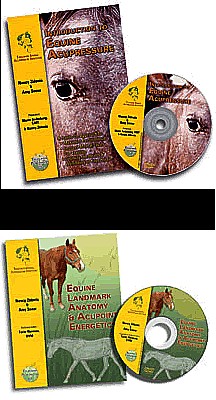 Introduction to Equine Acupressure DVD  (52 min)                                                                                                  $45

Marie Soderberg & Nancy Zidonis

This new DVD, Introduction to Equine to Equine Acupressure, gives you the basics of a complete acupressure session plus specific powerful acupoints for

arthritis,

colic,

lameness,

hindquarter strengthening,

calming

and other common equine physical and emotional issues.

This hands-on approach offers strategies for:

Performance Improvement, Mental Focus and Optimal Health and Well-being.

Note: Both DVDs are highly recommended for users of

Photon Acupuncture Therapy torches!

Equine Landmark Anatomy & Acupoint Energetics DVD (54 min)                                                                        $60

This DVD and Manual break new ground in the field of acupressure and acupuncture. They provide an exceptional tool for the veterinary professional, bodywork practitioners, and students of acupressure and acupuncture.

This equine video:

Identifies significant anatomical landmarks

Discusses how to locate acupoints

Demonstrates the flow of the 12 Major Meridians, Conception & Governing Vessels

Describes the function, location, and energetics of all the acupoints in the major acupoint classifications and key acupoints.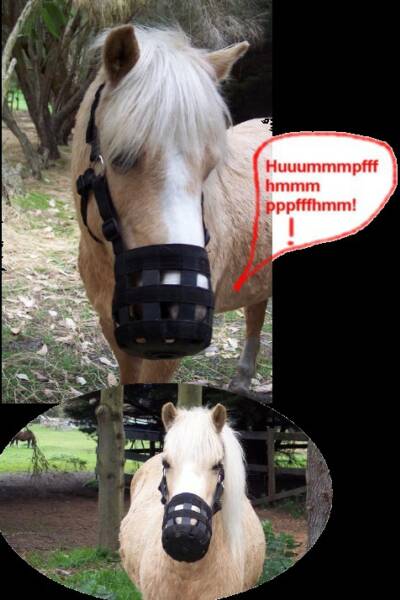 Best Friend Grazing Muzzle                                                                                                                              $89.95  

Proudly modelled here by my pony "Munschkin", who is "glucose intolerant" since she foundered when she was only 4 years old. Rather than locking up the "metabolically challenged", a grazing muzzle is a great alternative.

After an initial training period (some horses/ponies learn to "operate" the muzzle within 10 seconds :-)  ) the muzzle wearer can join the herd and be out in the paddock, living like a normal horse (albeit wearing a muzzle), so he or she can exercise and still follow his/ her instincts. Now grazing will not happen "by the mouthful" but rather

"blade by blade".

Remember "Prevention is better than cure! .... And nothing is as cruel as having to suffer laminitis/founder!

To down-load your fitting and sizing instructions, click icon.

Note: I only sell the genuine Best Friend Grazing Muzzle . It's the best and the safest! Beware of cheap immitations.

Note: All items will be dispatched when payment has cleared. This shop-front was set up for the convenience of my clients. I am not a retail trader, but sell most of the above items as commissioned agent or pass them on without or little profit. I use all of the products in my practice and can confidently endorse them here!

Prices may change frequently, as exchange rates fluctuate.

Please check with me if artice is in stock before you order.   hoof.care@bigpond.com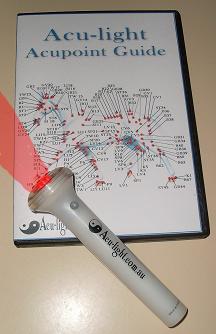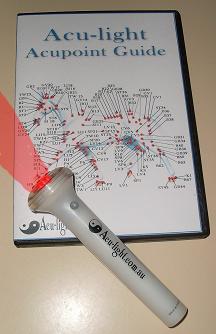 Acu point Guide USB stick with Acu-light torch

Easy to understand written and photographic point location guides on USB stick

Use your Acu-light (which comes now with USB stick)  directly on swelling and wounds to promote healing and on acupoints as recommended through 64 different treatment protocols.

Fantastic value and everybody should have one!!

Each torch (light plastic casing)  has 3 red 660nm LED bulbs with a massage head

works with 2 AAA batteries which are included                                                                                                                                                                                                                                                                            

I have been using photon acupuncture therapy on my patients and on myself for a number of years now.

It is one of the most helpful tools in my holistic practice!

(No, you don't need to be a practitioner - all you need is in the kit!)

For more information, click here                                                                            $ 89.95