How to arrange a photo consultation:

Naturally, a photo assessment does NOT! replace a physical examination, BUT basic problems may be evident to a trained eye.

*  Is your horse having problems?   (intermittent lameness, irregularity or unevenness of stride,

  stumbling, wall cracks,  muscle problems etc. etc. ?

*  Do you just want a second (or third) opinion?

*  Is a surgical procedure (e.g. neurectomy, tenotomy) the last option your vet has given you?

*  Is your farrier suggesting resections, corrective shoeing, wedge pads, artificial filler....

*  Do you simply want some trimming suggestions?

*   Is your horse being trimmed physiologically correct?

*  Are you a professional interested in another's point of view. (4 eyes see more than 2) ?

Cost: from $25 to $75 per consultation (please contact first, so I can quote)

  Urgent cases will be dealt with first!)

Procedure:

If you would like a remote evaluation,

please forward clear and in focus,

either printed or digital photographs as follows:

*   Full body picture

   Side-on with horse casually standing on firm, level surface (1.)

*   Photograph of each CLEAN hoof,

    taken from the side with camera on ground level

    (smooth, clean surface, clean hoof) (2.)

*   Photograph of each foot, taken from the front with camera on ground level

    (smooth, clean surface, clean hoof) (3.)

*   Photograph of solar aspect of the hoof (cleaned hoof) (4.)

Use high resolution shots for clarity, do not shrink digital pictures.

If you have radiographs, I wahnt to see them.

(some veterinarians are will not allow you to take your x-rays from

their surgery, not even if they would  assist your hoofcare provider on the day.

Should you have this problem, go to the surgery and take digital pictures of

the x-rays while they hang on the lightbox!)

Note: email is not always reliable, as some mail quota might

exceed the server's limits.

Please notify me, if you have not received a response within

a couple of weeks from

your submission. We may have to snail-mail!.

email/post pictures or disc to:

"EBHC" Remote Assessment

c/o Carola Adolf

Lot 9, Acton Road

Bass, Victoria 3991

Australia

Please don't forget to include:

- your name

- the horse's name, breed and age

- lifestyle: (e.g. herd.paddock.stabled)

- lameness and shoeing history (as far as known)

- if there is anything else you would like me to know/consider

- vet diagnosis and prognosis (if appliccable)

- and if you require either a) another opinion  or  b) trimming advise

- the photos (and/or copy of radiographs)

-

cheque or money order made out to "C.Adolf" (or direct deposit, see above) Please
email
for  a quote.
I will endevour to compiled your assessment as soon as payment is cleared. (Sorry, no credit card option yet)

ALL INFORMATION PROVIDED BY YOU, AS WELL AS OUR ASSESSMENT WILL BE TREATED "CONFIDENTIAL"!

1. Holistic Lameness Rehabilitation

Vet diagnosed  

Navicular Syndrome/Disease,     Laminitis/Founder,  Pedalosteitis

and

Contracted Hooves, Hoofwall cracks,

Clubfoot/clubby/boxy foot, Seedy Toe/ WL disease,  Abscesses,

Poor hornquality.etc,

Undiagnosed lameness

TREATMENT  of above

or

in CONSULTATION

with Vets and farriers

GENERAL BAREHOOF TRIMMING:

As a rehabilitation specialist, I have a special interest in lameness prevention (physiologically correct bare hoof care) and rehabilitation..

Please note that I have a waiting list.

New clients may have to book up to 3 months in advance. I will do my best to accommodate emergencies.

         SPECIALIST

HOOF CARE / TRIMMING

   Short talks, presentations

   Farrier workshops 

   One day seminars (information)

   One day trimming workshops

   Two day trimming workshops

   Three day trimming clinics

                   without guest lecturer

                   with guest lecturer

3.   Registered Student Mentor for

      Nationally accredited Hoofcare

     Provider Certification Course (Tas)

4.   Private Hoof Care Coaching 

      One-on-one trimming lessons

      for you and your horse

1. Formal Photo Consultations

   * Need a second opinion?

   * Need Farrier support/remote trim 

     instructions?

   * Need to present an "alternative" to

     your Veterinarian as treatment 

     alternative to the conventional?   

   * Simply want to understand your

     horse's hooves better?

2.  "Casual" Email Consultations

     (when I have time)  

     General Hoof care questions

3.  Articles

4. An internet shop

   (Grazing Muzzles, Hoof Protection,  

    Trimming tools, Probiotics

    Trimmer aprons (* the best!),

    BioScan equipment,

    Reg Light Torches,

    Nancy Zidonis' Equine Acupressure

    DVDs                       and more) 

NOTE: If your horse suffers soundness problems, please contact me with your vet's diagnosis!

No desperate case will be rejected!

I may travel interstate,  but special conditions apply.

    See individual promotion or contact organizer

3.   Tafe students, please
email
for arrangements
4.  Private Hoof Care Coaching sessions

    please
email
for arrangements :
Formal Photo consultations (Assessment, report and visual as well as written  recommondations)

(electronic or hard copy)

"Casual" Email consultations:

  free for now

Articles: on request






Payment methods:

Cash, Cheque,

Postal Money Order or

Direct Deposit:

(made out to C. Adolf)

Westpac Banking Corporation

BSB 733-003

Account No. 58-2462  

SWIFT Code: WPACAU2S                                 

West End, 114 William Street, Melbourne,

Vic. 3000 (Australia)  

this is what I need to see

NOTE: HIGH RESOLUTION DIGITAL PICTURES MAY HAVE TO BE EMAILED ONE BY ONE.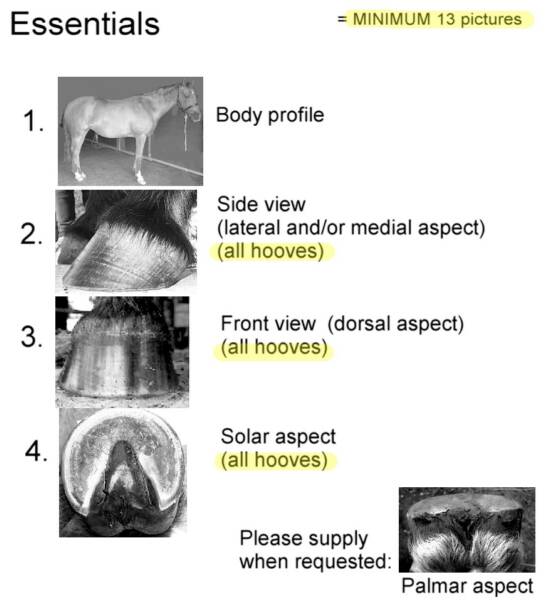 BODYWORK

EXTRAzell BMS Matrix Rhythm Therapy,

BIOSCAN

and manual therapies like

Masterson and EMMETT

Unique diagnostic and therapeutic treatment systems.

Please contact for more

information


On application.

your details and I will

give you a quote.

No desperate case

will be refused!

On application.

your details and I will

give you a quote.

No desperate case

will be refused!